5 Reasons to Outsource Your Fleet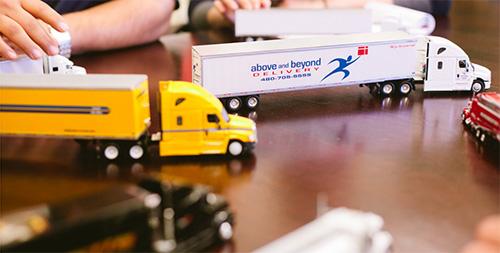 Owning an in-house trucking fleet may have its benefits. But could there be practical reasons to outsource your trucking and logistics that supersede the benefits? It is a valuable practice to examine both sides and see if outsourcing could save your company valuable time, effort and money as you try to grow your business. At that time, ask the question – will we gain more by outsourcing or keeping the logistics segment of the business in-house?
Here are 5 important reasons to consider outsourcing:
Focus Squarely on Your Business
Managing a full fleet of trucks is a business within a business and takes a significant amount of time, effort and money. When you outsource your fleet and logistics, management can put its focus on the most important parts of the business – mastering products, building sales relationships and managing the business and processes. Transporting products can be left to the experts in the trucking industry.
Reduce Operating Risk
A company takes on considerable risk when employing an in-house, full time trucking fleet. The risk is ongoing and ever-changing year after year. Extensive regulations currently in place from state and federal governments must be followed and require compliance, otherwise a business will face associated fines and penalties. You can avoid possible penalties and decrease the time and effort required to manage regulations and compliance issues by employing a third-party logistics company.
Reduce Operating Expenses
Hiring a third party to manage the shipping and logistics segment of your business saves you from investing money in capital expenses such as trucks, trailers, fleet maintenance, fuel and other associated equipment. When you eliminate the need for such investments, you can spend more of your capital on important areas such as product development, innovation and other pertinent processes and expenditures. One of the largest, ongoing expenses is retaining full-time drivers as company employees.
Eliminate Driver Management Issues
Employing drivers adds an extra element to your workforce that requires management and resources. You must put forth an effort to find the best and most qualified drivers to employ. You must conduct training, drug screening, background checks and motor vehicle registry searches. This adds employee salaries and benefits packages to the business overhead. Outsourcing your fleet eliminates these extra expenses, responsibilities, resources needed and time requirements during the hiring and ongoing management process.
Increase Customer Service Standards Provided to Your Clients
With outsourcing, experienced logistics professionals manage your shipments and receivables. Both you and your clients will benefit from the experience of a professional trucking fleet. Faster delivery and a higher level of efficient operation may be something an in-house trucking fleet struggles to achieve.
Outsourcing your fleet is not an easy decision. It may feel like a loss of control when outsourcing, but it also comes with big rewards. When you choose to outsource company liability decreases, cash flow increases and management's time can be focused on revenue generation.