Delivery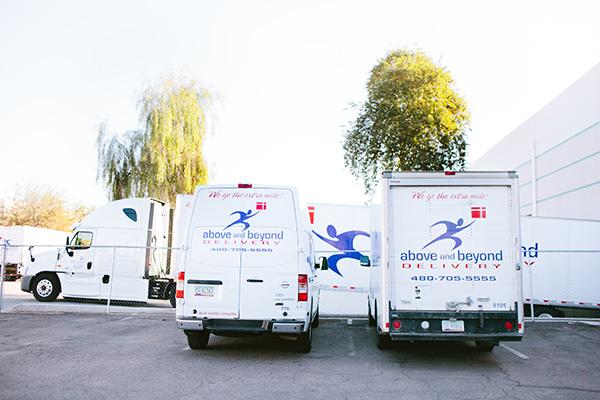 Customized Logistics - No Two Clients Are the Same
Above and Beyond Delivery's primary goal is to provide our clients impeccable service each and every time.
We own our fleet of trucks, with all of our assets equipped with insulation / climate control, GPS and remote locks. This is an important distinction when it comes to the ability to provide exceptional and reliable service. Above and Beyond Delivery employs full-time uniformed drivers, who become your regular and consistent driver throughout our work as your delivery trucking partner.
Not all trucking companies are created equal. Be sure to ask the very important questions which will improve your company's bottom line through time saved and savings in operational costs.
Above and Beyond Delivery offers a complete array of courier, messenger, delivery, and third-party logistics services specifically customized to your needs. Every business must move products, whether it is delivering or receiving stock. We work with companies as your delivery partner in a variety of industries.
Mining
Food service
Retail, wholesale and big box stores
Tree and plant nurseries
Pharmaceutical
United States Post Office
Clothing
Computers and electronics
Equipment
Furniture
Construction materials
Books and paper
And more
Our Services
Above and Beyond Delivery can manage all aspects of your company's delivery and receiving shipping needs. We focus on Arizona, New Mexico, Denver, California, Hawaii and the West Coast while our freight forwarding division can provide national and global service.
Dedicated Services

Services are customized to customer needs with the ability to adapt as needed
Online tracking in "real time" provides updated status reports on shipments en route
Schedules include daily, weekly, monthly, special delivery, time-sensitive and life-saving delivery routes

Dry Van Services

Drop trailers
Trailer Transfers
Expedited Freight

Refrigerated Services

Shuttle service
Experienced lane drivers
If your company has volume delivery needs, contact us to get a quote and compare the cost benefits and operational advantages of outsourcing your trucking needs.